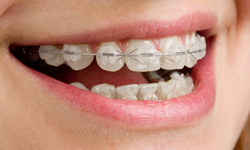 Clear (Ceramic) Braces
Clear braces (ceramic braces, cosmetic braces, tooth-colored braces) are an excellent option for patients, both teens and adults, who are looking for a more cosmetic approach to aligning teeth. Clear braces are used the same way as metal braces and come in a similar size and shape as their metal counterpart. At South Hills Dental Specialists, we also offer tooth-colored ties to hold the wire in for the optimal esthetic experience.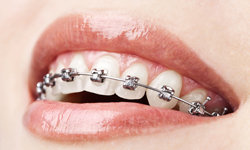 Self-Ligating braces
Self-ligating braces (Damon braces) are made of the same material as traditional braces. However, self-ligating braces do not use ties (the colored circles on people's braces) that are used with traditional braces to keep the wire in the bracket. Instead, self-ligating braces use a clip that opens and closes to keep the wire in the bracket slot. The idea behind the self-ligating bracket is that it exhibits less friction, which will allow the teeth to move more easily.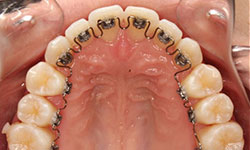 Lingual (Behind the Teeth) Braces
An enhanced experience that lets you truly enjoy the benefits of aligning teeth. INBRACE is the most technically-advanced lingual orthodontic system available. The INBRACE orthodontic system is a true invisible solution, offering the best cosmetic approach to correcting certain orthodontic problems. This system allows the patient to floss and brush normally, thanks to the robotic-made arch wires that are designed specifically for each individual patient.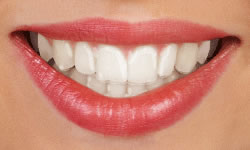 Clear Aligners
Clear aligners (Invisalign® and in-house aligners) are a series of invisible, removable, and comfortable thermoplastic trays that straighten your teeth like braces. As you move from stage to stage in your aligner series, your teeth will gradually align until treatment is completed. Clear aligners are practically invisible, and they can be removed to brush, floss, eat, and drink. Schedule an appointment today to find out if clear aligners are a good option for you!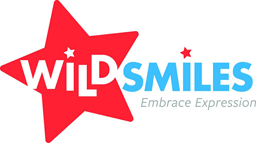 Wild Smiles
WildSmiles are a specially-made orthodontic bracket that comes in a variety of shapes and sizes, including footballs, stars, hearts, flowers, and diamonds. These shapes can bring more fun to your child's orthodontic experience. WildSmiles brackets are best for younger kids (ages 7-10), and they work the same way as traditional metal braces. Let us help you take your orthodontic treatment from mild to wild with WildSmiles!

Damon® Smile
Our office is pleased to offer our patients Damon Smile braces. Damon braces are a type of "self-ligating bracket" that uses a slide mechanism to hold the archwire, which reduces the amount of pressure placed on the teeth and allows them to move more freely and comfortably.
Metal Braces
When you think of "braces," you most likely think of metal braces. Metal braces are the most common type of braces used in orthodontics. Today's metal braces are much smaller, flatter, and more comfortable than in the past. Patients of all ages choose metal braces to help them achieve straight, beautiful smiles.
If you would like to learn more about types of braces in Riverton, Utah, please feel free to contact us at 385-210-1111 to schedule a visit to South Hills Dental Specialists and speak with our orthodontists, Dr. Skanchy Sr. and Dr. Skanchy Jr. We love to see patients from Herriman and Bluffdale, too!