An Athlete With Braces Might Need a Custom Mouth Guard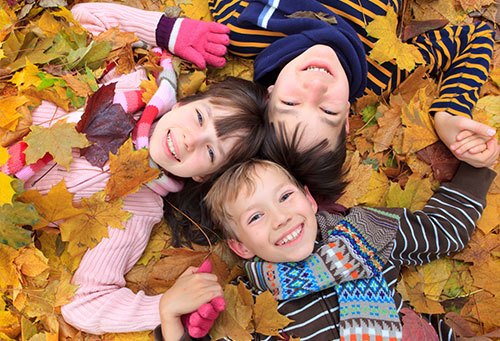 The new set of orthodontic braces installed in your child's mouth incorporate a series of metal brackets, wires, and other hardware components. If some element of their braces is loosened, damaged, or bent it will need to be repaired as soon as possible to keep from harming their mouth. It could also release the progressive tension required to correct the alignment of their teeth fully.
Youth athletes with braces might be at heightened risk of suffering these adverse complications from a blow to the face. This is especially true if you participate in a contact sport.
In many of these cases wearing a mouth guard can help protect their mouth and braces.
Unfortunately, many of the stock mouth guards and some of the thermoplastic mouthpieces sold in sporting goods stores rarely account for braces hardware.
If your child participates in a contact sport or other vigorous athletics Dr. Tony Skanchy can help fit them into a custom mouth guard. It is a soft, durable plastic mouthpiece designed to match the contours of their teeth and braces. This will provide their mouth with maximum protection and ease of breathing.
If you have a youth athlete with braces in the Riverton, Utah, area and you need help protecting their mouth, you should call 385-210-0000 to explore the braces options available at South Hills Dental Specialists.
---
Brushing Tips for Those Who Have Braces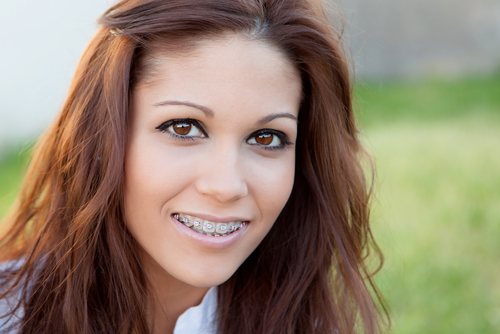 If you have braces, you most likely know how important it is to properly care for and clean your smile and braces. You probably know that you should brush after every meal and floss at least once a day. To help you have a better brushing routine, our orthodontist, Dr. Tony Skanchy, has some tips for you.
First, try to spend about 10 seconds cleaning each tooth. Make sure to clean the front, back, and chewing surfaces as well as around the brackets. Also, use the same cleaning technique for each tooth so every tooth has the same amount of cleaning.
Second, use fluoride toothpaste and a soft-bristled toothbrush as you scrub. These oral hygiene products will clean and strengthen your teeth. They will also care for your tooth enamel and gums.
Third, gently brush the braces. Press the toothbrush against the appliance so the bristles spread into the gap between the wire and the tooth as well as around the brackets. Brush in and around every piece of hardware. An electric toothbrush might make this task a bit easier.
If you have any questions or if you would like to know more about how to brush when you have braces in Riverton, Utah, please contact South Hills Dental Specialists at 385-210-0000 when you have the chance. Our orthodontic team is happy to help you, and we look forward to hearing from you.
---
You Will Need to Use a Retainer After Your Braces Have Been Removed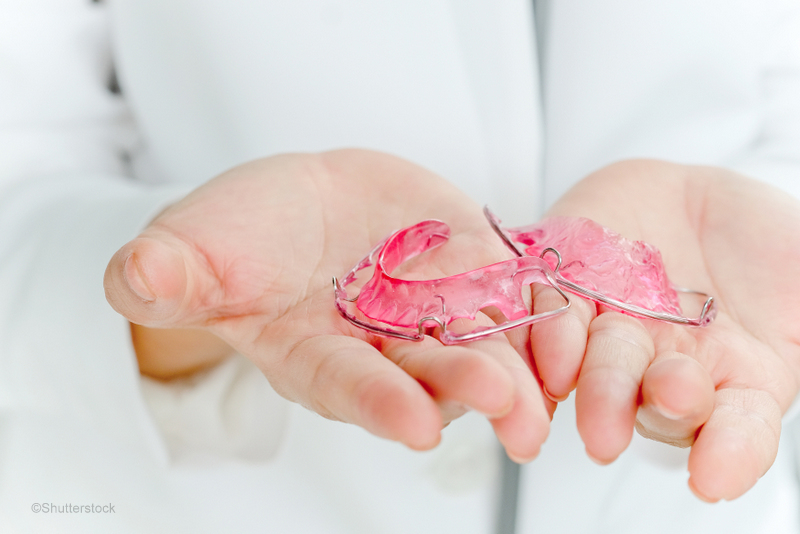 Your routine adjustment sessions were very important for the process of realigning your teeth with braces. Each of these appointments apply successive tension to the periodontal ligaments that anchor your teeth into your periodontal tissues. Now that your teeth have attained their ideal position, Dr. Tony Skanchy can uninstall them from your mouth.
It's important to understand that there will still be a moderate amount of residual tension in the periodontal ligaments that hold each of your teeth in its socket. If it's not adequately addressed the lingering tension could cause your teeth to relapse out of alignment.
To prevent a problem of this magnitude, Dr. Tony Skanchy will fit you for a removable retainer immediately after your braces have been removed. The most common type is known as a Hawley retainer.
This is a fully removable mouth piece made from a special dental acrylic. It includes wires that lock the retainer in place with specific teeth. You will need to use your removable retainer for a specific amount of time each day.
If a specific area needs significant realignment, Dr. Tony Skanchy might recommend cementing a metal fixed retainer behind the teeth. This sturdy metal band cannot be removed and will need extra focus in your daily oral hygiene routine.
If you are due to have your braces removed and you have a question about the retention process, you can always call 385-210-0000 to speak to one of the staff members at South Hills Dental Specialists's orthodontic clinic in Riverton, Utah.
---
YOUR PERSONAL PREFERENCE AND THE TYPES OF BRACES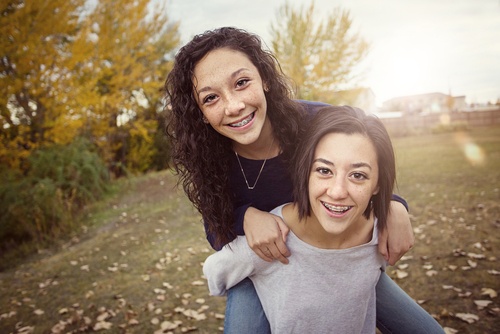 When alignment issues with your teeth go uncorrected it can do more than leave you with an unappealing smile. As time goes on the unhealthy angle that your teeth meet at can cause you to suffer problems with dental fractures and dental attrition. Once these teeth have been compromised they will also be at increased risk of suffering severe cavities.
Fortunately, most orthodontic alignment issues can be corrected by having Dr. Tony Skanchy provide you with some form of braces. The type he recommends for you will be based on your personal preference as well as the severity of misalignment.
Traditional braces incorporate small metal brackets that are cemented onto the faces of your teeth. This style of braces also includes wires and other orthodontic hardware components.
If you aren't comfortable with visible braces or hardware appearing on the teeth in your smile Dr. Tony Skanchy can apply a ceramic glaze to the components. This is a special dental porcelain material that can be shaded to match natural tooth enamel. Once it has been applied the braces hardware will have less visual impact.
If you only need a minor amount of realignment, Dr. Tony Skanchy might suggest a brand of clear plastic braces like Invisalign®. These clear plastic aligners will be designed to match the shape and orientation of your teeth. Every two weeks you will need to switch to another set of aligners. Each set is tuned one step closer to the ideal alignment of your teeth.
If you live in the Riverton, Utah, area and you are contemplating braces, you should call 385-210-0000 to set up a consultation at South Hills Dental Specialists.
---
ORAL HEALTH CARE FACTS BLOG: ORTHODONTICS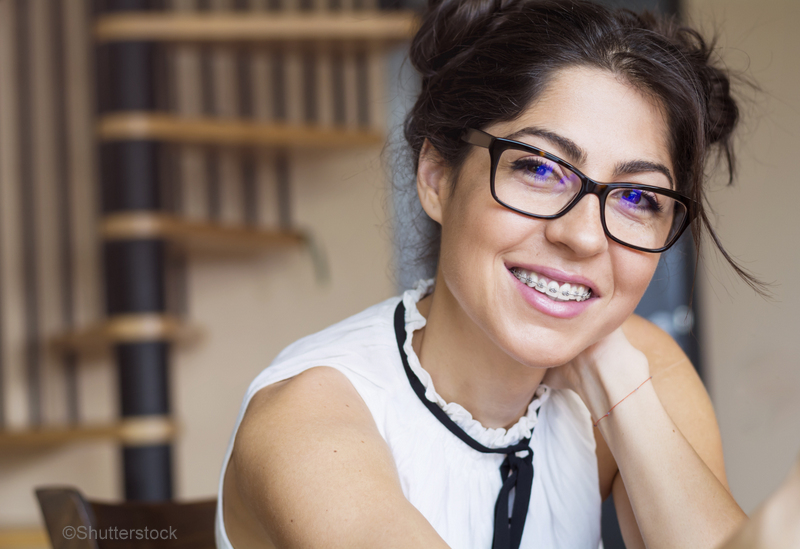 If you are in need of orthodontic care, contact our office for an appointment. Our highly trained team looks forward to straightening your smile and giving you a smile makeover you've always wanted. We have a multitude of orthodontic treatments to help correct and fix whatever misalignment may be plaguing your smile.
For a list of guidelines concerning orthodontics, consider these facts:
• In many cases, people often think braces and aligners are only for young people, but they are just as helpful for adults as well and can be used to straighten teeth at any age.
• By frequently wearing orthodontic aligners, retainers, and braces, achieving a set of straight teeth is possible.
• Orthodontists have an immense amount of knowledge given that their training extends well beyond regular dental school to allow them plenty of information to administer treatments that extend beyond the realm of traditional dentistry.
• Given society's quest for straight teeth, along with its oral health benefits, Orthodontics focuses on doing just that, straightening teeth.
• A straight smile is the goal of orthodontics via modifying malocclusions and any bad bites or disorders that contribute to crooked teeth.
Whichever orthodontic services you feel would best suit your needs, Dr. Tony Skanchy and our team here at South Hills Dental Specialists in our orthodontic office in Riverton, Utah are committed to providing you the service you require. We can be reached at 385-210-0000. Your smile is our business!
---
DO YOU NEED MALOCCLUSION THERAPY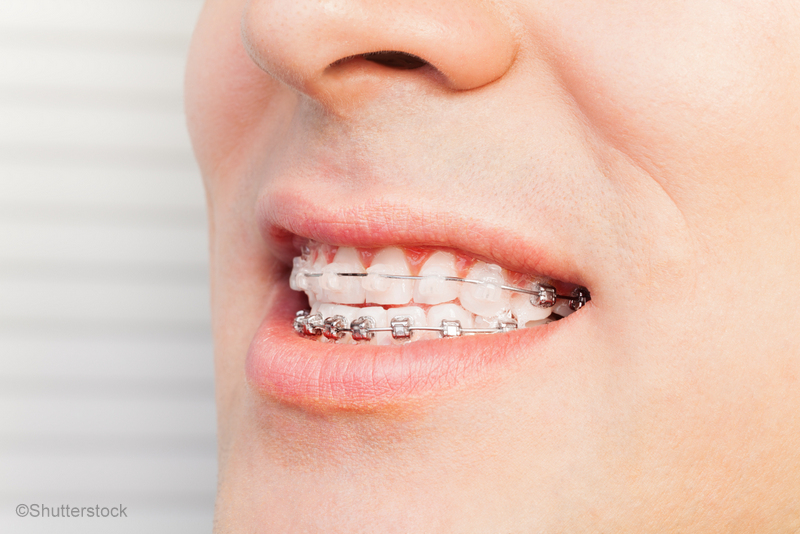 Orthodontics can be used to treat malocclusions. Malocclusions are bad bites that are the result of irregular teeth and jaw misalignments. Teeth that are out of alignment can grind against each other and wear down over time, as well put you at risk for other oral health problems. There are different types of malocclusions:
• If your upper incisors fail to align with your lower incisors, misplaced midlines occur.
• When your upper incisors stick out past your lower incisors, overbites, also called buck teeth, occur.
• In cases in which your lower jawbone sticks out past your upper jawbone, crossbites occur.
• When your lower incisors stick out past your upper incisors, underbites, also called bulldog teeth, occur.
• If teeth are not in their proper location and position, rotation malocclusions occur.
• Teeth that erupt above the gum line in the wrong space are known as transposition malocclusions.
• Overcrowded teeth, too many teeth, and irregular gaps between teeth are known as spacing malocclusion.
• When your upper and lower incisors failed to connect when biting down, open bites occur.
If you are suffering from malocclusions, Dr. Tony Skanchy and the team here at South Hills Dental Specialists in our office in Riverton, Utah are committed to providing you the service you need. We can be reached at 385-210-0000. Your smile is our business!
---
WHAT'S THE DIFFERENCE BETWEEN A DENTIST AND AN ORTHODONTIST?"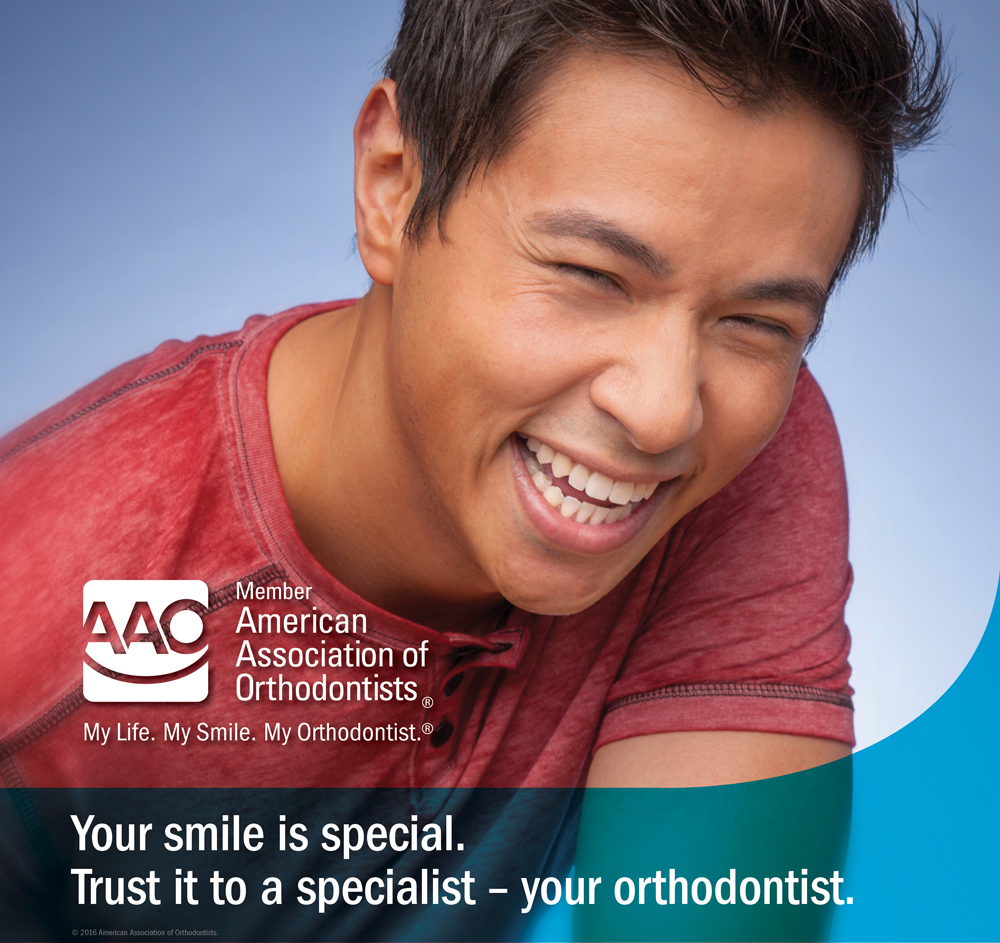 What's the difference between a dentist and an orthodontist?
We get this question all of the time! When choosing a dental provider, it's important to understand the difference between an orthodontist and a dentist to make sure you are receiving the highest quality care for your specific situation. Orthodontists and dentists both help their patients improve the quality of their oral health, but their focus is upon different aspects of oral health.
What is a dentist?
General dentists are doctors who receive four additional years of schooling after completing their undergraduate degree to earn either a DDS (Doctor of Dental Surgery) or a DMD (Doctor of Dental Medicine) degree. Some dental programs use DMD while others use DDS, but both use the same curriculum and they are basically interchangeable. Once in practice, dentists treat a wide variety of issues dealing with your general oral health. Some of the DENTIST'S RESPONSIBILITIES include:
• Preventitive treatment
• Fillings
• Crowns
• Gum care
• Veneers
• Bridges
• Teeth Whitening
It is recommended that you visit your general dentist twice a year (and in some situations more oftent) to make sure you maintain the best dental health possible.
What is an orthodontist?
All orthodontists are dentists who receive the same dental degree as their dentist peers, but only 4-5% of dentists go on to become orthodontists. An orthodontist is a licensed dentist who receives an additional 2-3 years of orthodontic-specific education and training, following dental school. Qualifying to be an applicant for an orthodontic program is very competitive. Some orthodontic programs offer a masters degree in dentistry often called a Master of Dental Science (MDS). Orthodontists are uniquely qualified specialists who diagnose, prevent, and treat dental and facial irregularities to correctly align the jaws and teeth. Some of the common problems that orthodontists treat are:
• Crooked teeth
• Overbite
• Underbite
• Open bite
• Spacing
• Crowding
• Jaw growth problems
• Dental habits
As dental health providers, dentists and orthodontists alike know that you hope to make the best possible decisions for yourself and for your family. We all agree that going to the dentist is an essential part of health and happiness. That being said, if you are hoping to treat issues surrounding jaw problems, crooked teeth, crowding, and so on, the American Association of Orthodontists recommends trusting your smile to a specialist who has been specially trained to help you gain your best smile and receive the highest quality care. Dr. Skanchy is a certified orthodontist as well as a board certified orthodontist through the American Board of Orthodontics. He is also an Elite Invisalign Provider. Visit our office today to let us help you start your journey to straighter and healthier teeth!
Thanks for taking the time to read our blog post! If you have any questions regarding treatment please don't hesitate to ask. To schedule a free evaluation please call (385) 210-1111. Dr. Tony Skanchy is a board certified orthodontist, serving the Riverton, Bluffdale, and Herriman community.
---
"TEN THINGS YOU MUST KNOW BEFORE CHOOSING YOUR ORTHODONTIST"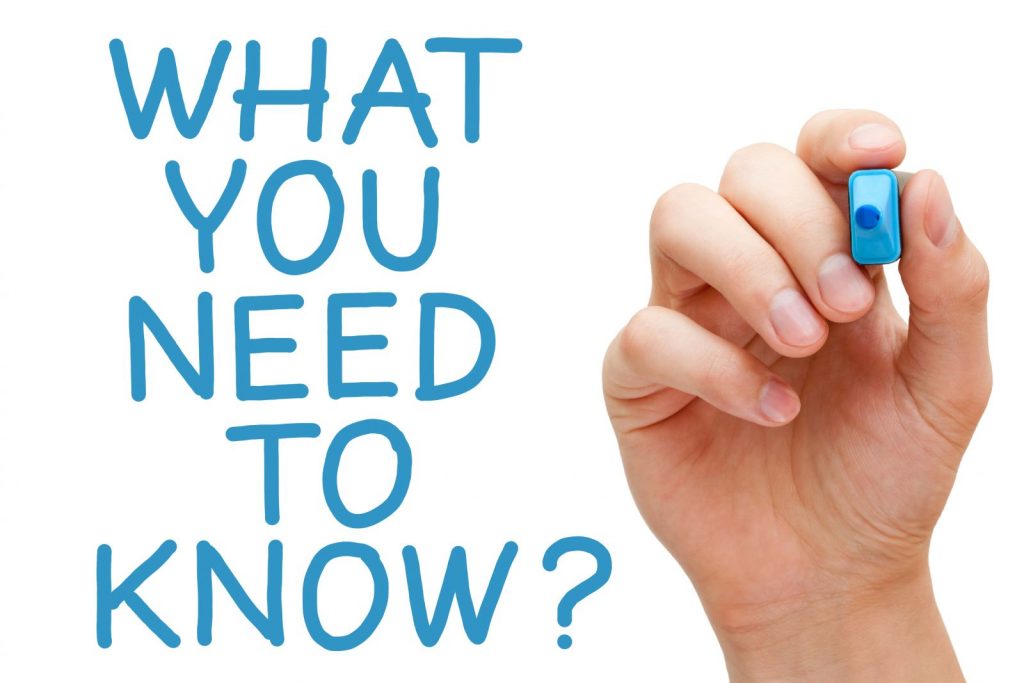 Choosing the right provider for your orthodontic care is an important task. To help simplify things, we have compiled a list of items that you should consider when making your decision. Hope this helps!
1. Is the doctor a specialist? Orthodontists are dental specialists who complete an additional three years of training and education beyond dental school to learn the proper way to align teeth. When it comes to your smile you should choose the best! Choose a specialist recognized by the American Association of Orthodontists. Dr. Skanchy is a certified Orthodontist.
2. Is the orthodontist at the office full-time? At South Hills Orthodontics we have one convenient location. You can find comfort in knowing you will have access to the same Orthodontist at the same location throughout your orthodontic treatment.
3. Is the orthodontist a board certified orthodontist? A board certified orthodontist must demonstrate judgement, skills and knowledge that's required for providing the highest level of patient care. Dr. Skanchy is a board certified orthodontist, a designation held by only 30% of orthodontists.
4. When should I have an evaluation? The American Association of Orthodontists recommends seeing an orthodontist for the first time at age seven. Although many children will not require treatment at this time, others may strongly benefit from simple procedures that minimize the need for tooth extractions and surgical interventions in the future.
5. Does the orthodontist treat adults? Approximately twenty percent of our patients are adults. For many adults, an attractive smile is important to their health and self-esteem. Dr. Skanchy offers a variety of cosmetic approaches to straightening teeth and is a Preferred Invisalign Provider and trained in Clarity clear braces.
6. How much does the first visit cost? At South Hills Orthodontics, your orthodontic evaluation will always be free of charge.
7. Are there family discounts? Yes! Ask about our family discounts when you come and visit.
8. What does the quoted fee include? Here at South Hills Orthodontics there are no hidden fees. Your quoted fee includes everything outlined in your individualized treatment plan, including retainers and follow-up retainer visits up to a year after treatment is completed. You will never be charged for missed appointments, broken brackets, or emergency appointments.
9. Does the practice offer flexible financing and handle insurance? We offer in-house financing, no down payment options, and extended payment plans. We also accept a wide variety of insurance plans, flex spending accounts, and health savings account payments.
10. Does the office have reward programs and contests? We value our patients and sponsor reward programs and contests to show them our appreciation and promote good oral hygiene.
Thanks for taking the time to read our blog post! If you have any questions regarding treatment please don't hesitate to ask. To schedule a free evaluation please call (385) 210-1111. Dr. Tony Skanchy is a board certified orthodontist, serving the Riverton, Bluffdale, and Herriman community.