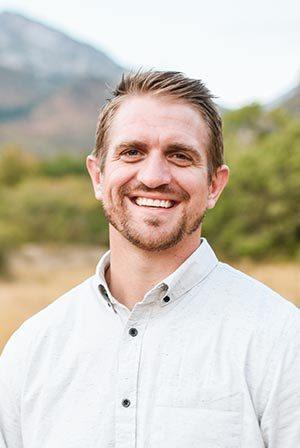 I love coming to work each day. Children certainly keep me on my toes and there is never a dull moment. Having five kids of my own ensures that the fun doesn't stop when I get home either! There are few things quite as rewarding as helping a kiddo though a potentially stressful situation and getting a big hug or high five at the end of the appointment. Much of my joy comes from interacting with so many different kids and their parents and each of their unique personalities. I especially enjoy treating children with special health care needs and they have become a large part of my practice. They have such an amazing spirit and their parents and guardians really exemplify unconditional love.
I earned a bachelor's degree from the University of Utah in Biomedical Engineering and then went on to attend dental school at Creighton University where I graduated summa cum laude. Dental school was an amazing experience and I was able to share many incredible friendships with patients, classmates, and instructors. Halfway through dental school is when I discovered that working on kids was a blast and decided that I would dedicate my career to pediatrics. I then went on to complete my residency in pediatric dentistry at Primary Children's Hospital in Salt Lake City. This wonderful 2-year experience beyond dental school opened my eyes to the intricacies and joys of pediatric dentistry and prepared me well to care for children of all ages and backgrounds. During my time at Primary Children's, I was nominated for resident of the year which included all departments throughout the entire hospital. I was also a recipient of the Pugh Achievement award which is given to those who rank in the top 3% nationally on the board qualification exam. Since then and through all my years of practice as a pediatric dentist I have loved learning. This has driven me be heavily involved in continuing education in order to keep up with the most current methods and materials for prevention and treatment. My position as attending faculty at Primary Children's Hospital in the pediatric dental residency allows me to constantly review the current literature. Being able to both teach and learn from the residents and other faculty has really enriched my practice.
Education and Commitment to Continuing Education
Until early 2020 I was a sole practitioner and owner of Jacobsen Pediatric Dentistry in Riverton. At that point Dr. Bart and I decided to merge our practices so we could use all our combined resources to provide the best, most comprehensive, and convenient care to our patients. The relationships I have with my patients, their families, and my team members mean the world to me and I look forward to many years of forging more.
Professional Memberships
Outside the office:
I am originally from Layton, Utah. I briefly left the state for dental school, but I couldn't stay away from this beautiful place and quickly returned for my residency and to practice here. I am married to my much better half, Melanie. She is an amazing multi-tasker and is a Certified Public Accountant in addition to being an incredible wife and mother and you may see her helping out at the office on occasion too. We have five awesome kids who never fail to add excitement to our lives. My favorite hobby is being a dad and so most of my spare time is filled with anything that involves my kids. We love to get out of the house and go to the aquarium, Thanksgiving Point, hiking and camping in the mountains. We love boating and fishing on many of the surrounding reservoirs but our favorite by far is Lake Powell. We also love to travel as a family and see as much of the world as we can. When I have a moment to myself you may also find me on a mountain bike or in a gym lifting some weights.