Pediatric Dentist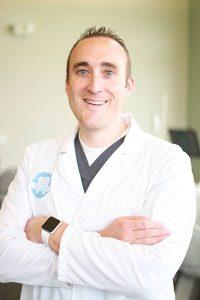 I'm passionate about healthy smiles and the overall health and happiness of your child. Dental visits can be stressful for both the child and parent. My goal is to have every child excited to come to the dentist.The reason I entered my profession is because of my love and affinity for children. My happiest moments are when a child visits me for the first time, having been to multiple unsuccessful dental visits, and having the child leave comfortable and proud of themselves for what they've accomplished with my patience and guidance.
Children make me happy and keep me young. I can't imagine myself in any other profession. Children amaze me every day. They're so smart, impressionable, courageous, and capable. I love working in a profession where I get to influence a child for the better by improving and maintaining a healthy, beautiful smile.
Education and Continuing Education
Continuing education is very important to me because I want to offer the best and safest care to your child. We live in an ever-changing world where new innovations are created each day. By keeping up with the latest technologies, I can help you make the best decision for your son or daughter.
I regularly attend national and regional pediatric dental meetings and continuing education seminars, and I subscribe to many pediatric dental journals and magazines to stay up to date on the most evidence-based treatments available. Things we believe impossible today could be the standard of care tomorrow.
Teaching Experience
Professional Memberships
Outside the Office
I was born in Bountiful, Utah, but spent most of my young life in Ashland, Ohio. At the age of 13, I moved back to Utah and attended Uintah High School in Vernal. It was there where I grew to love music and musical theater, and I acted in such roles as The Tin Man in "The Wizard of Oz," Reuben in "Joseph and the Amazing Technicolor Dreamcoat," and Frankie in "Forever Plaid." Recently I have been participating in Herriman Art Council shows, such as Sebastian in The Little Mermaid and Grandpa Potts in Chitty Chitty Bang Bang. It's this love of music that results in frequent outbursts of "Let it Go," "The Wheels on the Bus," and "The Buzz Lightyear Song" to help ease children's dental anxiety.
I have three beautiful girls in my life: my beautiful wife Emily, our oldest daughter Abigail and our youngest daughter Millie. I also have a son named Beckham, who is our miracle child. My wife loves to camp, hike, sleep in and sew. Abigail loves to draw, play games, read books, and sing with her dad. Millie loves to sing and jump on the bed, and Beckham likes to sleep during the day and play at night. Also, I am a twin, and my brother is an optometrist in Monument, Colorado.
When I'm not fixing teeth, I'm likely playing with my kids, attending play practice, reading a fantasy book (Brandon Sanderson is my favorite), riding my bike or playing a board game. I also enjoy watching Pixar and DreamWorks movies.